Learjet Heading
Gyro

4000

Replace Troublesome Learjet DN-101 or DN-104 Gyros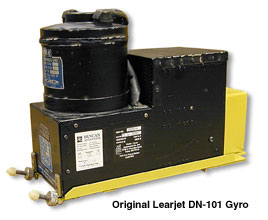 with
Dependable 10,000 Hour Sperry/Honeywell Gyros
The HEADING SYSTEM in your Learjet depends on an old gyro designed in the early 60's for the Lear-23. Unreliable and difficult to repair, these tired gyros contain components that have not been made for 30 years. Even late model 31s and 35s depend on this 40 year old design.
The DN-101 gyro was designed to be incompatible with industry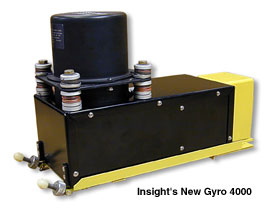 standard gyros, so replacements were not available. Learjet operators were forced to rebuild and repair these old gyros over and over again. Finally a modern plug-in replacement is available.
The Insight Gyro 4000 is based on the best heading system in the industry, the Sperry/Honeywell C-14A. The C-14A rotors are equipped with long life bearings rated for 10,000 hours. Combining the C-14A with special interface circuitry in a compatible package, the Gyro 4000 is a plug-in replacement for the old JET DN-101 or DN-104.
STC'd for Learjet: 23, 24, 25, 28, 29, 31, 35 and 55 DN-101,104 equipped Learjets as a direct replacement.

Case Study:
On January 13, 1998, a Learjet 25B crashed two miles short of runway 26 while attempting a second ILS approach to Houston Intercontinental Airport in dense fog with visibility reported to be less than a quarter mile. The aircraft missed its first approach after the captain's directional gyro flagged and the aircraft strayed 25 degrees left of the final approach course. In addition, the aircraft had sticky glideslope needles which had been previously squawked but not fixed. Inexplicably, the experienced flight crew decided to attempt a second approach. They didn't make it. [NTSB Identification: FTW98MA096]
Price:
Gyro 4000 with rebuilt Sperry/Honeywell gyro and exchange of DN-101 or DN-104 - Call for price.

Gyro 4000 with rebuilt Sperry/Honeywell gyro with no exchange - Call for price.

2 Year Warranty
STC # SA02-32

The solution for your Learjet gyro problem is only a phone call away.